PRIVATE LESSONS ON SKYPE…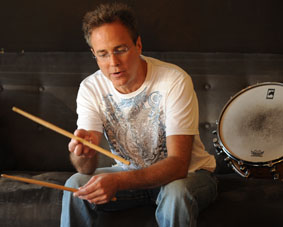 K
evin Crabb
teaches privately from his studio in Los Angeles, California, and is now able to offer his rare technique and experience to students around the globe with the aid of
Skype
. Bruce Wittet of Drums, Etc. stated in Nov.-Dec 08 issue,
"A student of guru LA teachers, Murray Spivak and Richard Wilson…Crabb appropriates the key tenets of his mentors and combines these with principals derived from engineering, traditional drum wisdom, medicine and physiotherapy."
The article reviewing Kevin's teaching methods on Skype, published in the June 2010 edition of
Drums, Etc
. and written by Bruce T. Widdet can be reviewed
here
.
MASTER CLASSES….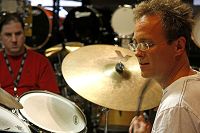 K
evin Crabb
has successfully conducted Master Classes all over the US and Canada. His most recent Master Class on March 8, 2012 was broadcast from his LA Studio and appeared on a move-size screen inside the state-of-the-art theatre at St. Michael's College School Centre for the Arts in Toronto, Canada. (
http://www.stmichaelscollegeschool.com/
).
This first-of-its-kind class focused on exemplifying the concepts discussed in the Modern Drummer "Strictly Technique," focusing on Spivack/Wilson Approach to Technique. The event was covered by Drums, Etc. in an upcoming article and sponsored by Paiste Cymbals, Aquarian Drumheads, Mapex Drums in conjunction with Just Drums in Toronto, Ontario.
Door prizes were provided by the sponsors were raffled off at the end of the class. Paiste Cymbals also graciously donated a cymbal for a door prize. Winners and photos will be posted soon on this we site.
A new Master Class is scheduled soon at P.I.T. Kevin accepts bookings for both Master Classes either at your location or online, in addition to one-on-one lessons. For inquiries or to schedule a Master Class at your location or online, please click here.
KEVIN'S FAMOUS DRUM HANGS….
T
his artistic and creative social gathering which Kevin originally hosted from his home/studio, outgrew the space and has been held at famous locations such as The Baked Potato, Spazzio Jazz Club and the famous educational institution Los Angeles Music Academy (LAMA). The gatherings include a special guest speaker/drummer and world-class ensemble. The gatherings are both education and fun. Past special guests and attendies have included: Mike Clark, Ralph Humphry, Chad Wackerman, Clayton Cameron, Joe Porcaro, Freddy Gruber, Richie Garcia, Steve Ferrone, Virgil Donati, Bernie Dressel,Wally Snow, Willie Ornelas, Gary Ferguson and Mark Stevens.
Please click here to visit Kevin's Drum Hang Page.
There is a gallery of photos and YouTube videos.
Please stay tuned for the next drum hang. If you would like to participate or be notified of the next Drum Hang, please send an email and request to be added to the email list.